JoyAR
Due to their background, the JoyAR partners have a genuine interest in making learning a more enjoyable experience. Furthermore, some of the JoyAR partners were involved in a past Grundtvig project (LETS do it Creatively) that dealt with joyful learning.  During the course of this project, these partners had briefly encountered the technology of Augmented Reality.  Based on the little exposure they had of this technology and also how it was positively received by the LETS learners to whom it was demonstrated, they became aware that AR has great potential in making learning more enjoyable. 
While this technology is not new, it is only in recent years that its potential in education is beginning to be explored. The focus has primarily been on introducing this technology into mainstream classrooms at primary and secondary levels. Little work has been done to-date on using AR as a mechanism for creating a joyful and enriching learning experience for adults.  
The project's partners are excited by the possibilities that this new technology offers in the field of adult education. However, due to a lack of knowledge and experience with AR technology and AR in education, they felt they needed to get together with experts in the field to learn about and develop case-studies of AR for adult education and training. Hence,  the learning partnership JoyAR has been setup for this purpose.
Contact us: This email address is being protected from spambots. You need JavaScript enabled to view it.
JoyAR project selected as a "selection of your project as a "success story" "
Our project team is very pleased to announce, that our JoyAR project has been selected as a "success story" by a panel of experts from the Directorate-General for Education and Culture of the European Commission.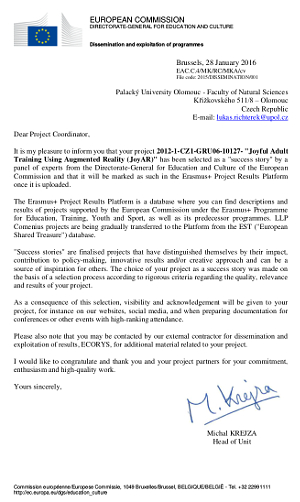 JoyAR project final meeting
Our JoyAR project final meeting is scheduled on July 14–15, 2014 in Olomouc, Czech Republic.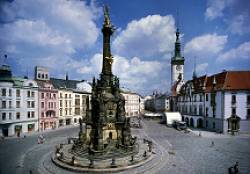 First information about 3rd meeting has beed added to the website
JoyAR case-studies can be found in AR case-studies
The videos related to the project are collected in our You Tube channel. The link can be found in Disemination page.